Are you interested in becoming a driving instructor? With Pisani Motoring School you are guaranteed to work your way to doing so.
We at Pisani Motoring School are looking for male and female instructors across all of Malta, who are fully capable of teaching manual or automatic either full-time or part time.
Become a driving instructor with Pisani Motoring School
Benefits of becoming a driving instructor:
An excellent and secure income in a sustainable market.
Working hours are flexible and made to suit your lifestyle.
You get to be your own boss and take control of your work and life balance.
The satisfaction of having a big job.
---
Requirements for candidates:
You have held a Transport Malta (TM) Category B license for the past 5 years.
You have a clean police conduct.
You must be proficient in Maltese and English and are able to communicate well while instructing students, with confidence in speaking both languages.
You must be self-motivated, well mannered, confident, reliable, organised, punctual and very patient.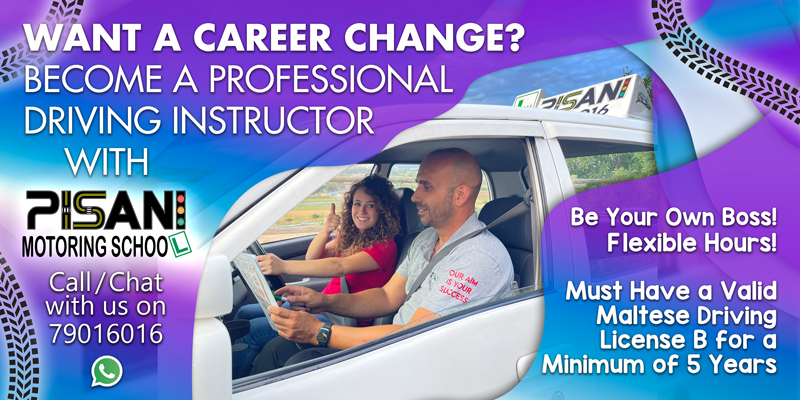 Training:
Supportive and cost-effective driving instructor course in Malta through our driving instructor academy.
Once you complete and pass, you're driving instructor test, you are guaranteed a position with us.
---
Training Requirements:
You must own a white vehicle which has functional dual controls installed in excellent condition. If you do not own such a vehicle, you may hire one of our cars.
Wages are €25 per hour. For more information call 77161600.
Join our team today!
If you are a fully qualified driving instructor and have always been interested in trying out something new, as well as have a great passion for teaching, we can offer you with a great opportunity to work as a self-employed driving instructor.
Requirements:
A) You must be in possession of a valid Driving Instructor Permit
B) You must have excellent communication skills
C) You must be fluent in both English and Maltese
If on the other hand you are interested in changing your career path to becoming a driving instructor, and you have possessed a Maltese driving license for the past 5 years or over, contact us and we will guide you through the whole process.